The first question we get when talking about our video wall is, "How big is it?". And our answer is, "It depends."
LED Video Walls like ours are made up of dozens of 1/2-meter squares that can be assembled into nearly any shape, in 1.6-foot increments. We can hang them from the ceiling, stack on the ground, or suspend from any of our ground support structures.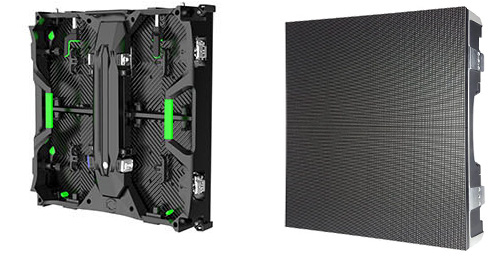 Most of the time, you will want a standard 16:9 Widescreen shape for your video wall because that is how your content is designed to look. Videos and presentations will go edge-to-edge without distortion. Here's a handy chart of what we can build for you:
(I included the resolution in case you prefer to design to the exact pixel size – but we'll worry about weight, power, and structure for you as part of our planning process.)
Width
Height
Diagonal
(TV comparison)
Weight
(lbs)
Actual Resolution
3.3′
1.6′
44″
56
256 x 128
6.6′
3.3′
88″
184
512 x 256
8.2′
4.9′
114″
320
640 x 384
11.5′
6.6′
158″
574
896 x 512
14.8′
8.2′
203″
900
1152 x 640
18.0′
9.8′
247″
1298
1408 x 768
19.7′
11.5′
273″
1632
1536 x 896
Standard sizes based on approximate 16:9 Widescreen format
But we're not limited to that rectangle. We make a wall 72 feet wide… if it only needs to be 3.5 feet tall. In fact, that's exactly what we did for branding at the World Archery Championship. We provided 56 feet of dynamic sponsor wraps like this and ran it for 9 days:

We can also split it up or go extra-wide as a "set piece" that becomes a graphic design element itself – beyond the presentation content. For example, for this event we extended the video wall to fit the stage edge-to-edge, and then framed the PowerPoint presentation with an animated background loop. This preserved the original aspect ratio of the presentation and made the stage more visually engaging at the same time.